Reading Time:
2
minutes
In the last days we get a new software version for the MSM controller and the HP Unified Solution and a new AP, the HP 525 dual-radio 802.11ac AP.
MSM Version 6.5
The released MSM version 6.5 brings support for the HP 560 802.11ac AP and the autonomous mode for this AP. Now, you can run the AP in the autonomous mode to do site surveys. How to convert the AP from unified to MSM can be found here:
The new MSM version also brings support for 802.11w on the HP560 AP only. All other AP's did not support 802.11w, currently. Another enhancement in this release is the new "Configure initial controller settings" wizard which starts automatically after you connect to a new or factory restored controller.
If you are not running version 6.0.3.0 or later you have to do two-step upgrade. Upgrade to 6.2.1.1 first and then to 6.5.0.0.
The new MSM version is available on the HP web page for entitled customers:
J9693A HP MSM720 Access Controller (WW)
J9694A HP MSM720 Premium Mobility Cntlr (WW)
J9421A HP MSM760 Access Controller
J9420A HP MSM760 Premium Mobility Controller
J9370A HP MSM765 Zl Premium Mobility Controller
J9840A HP MSM775 zl Premium Controller Module
HP Unified P32
The new P32 release for the Unified controller is mostly a bug fix release, but also brings some enhancements:
New feature: Centralized forwarding for client DHCP packets
New feature: Separate IPv6 prefix assignment for each client
New feature: Weak signal strength inform
Modified feature: WLAN optimization configuration (seperate settings for 2.4
and 5 GHz)
New feature: TCP fragment attack protection
Modified feature: Client cache aging time
Modified feature: 802.1X authentication timers
New feature: Web configuration for IPSec
New feature: WeChat authentication
Modified feature: Importing certificates in P12 format
New feature: Configuring attack detection for WIPS (Honeypot APs,Spoofed deauthentication frames, Man In the Middle (MITM) attacks, Clients with the 40 MHz bandwidth mode disabled, Wireless bridges)
For the HP 850 and the HP 870 controller, HP added the support for DAC cable to connect these controller easy with 10GB connections.
HP 850/870 Direct Attached Cable support:
HP X240 10G SFP+ to SFP+ 0.65m Direct Attach Copper Cable (JD095C)
HP X240 10G SFP+ to SFP+ 1.2m Direct Attach Copper Cable (JD096C)
HP X240 10G SFP+ to SFP+ 3m Direct Attach Copper Cable (JD097C)
The software can be downloaded from the HP web page:
JG641A HP 830 8P PoE+ Unifd Wired-WLAN Swch
JG640A HP 830 24P PoE+ Unifd Wired-WLAN Swch
JG722A HP 850 Unified Wired-WLAN Appliance
JG723A HP 870 Unified Wired-WLAN Appliance
JG639A HP 10500/7500 20G Unified Wired-WLAN Mod
HP 525 Dual-Radio 802.11ac AP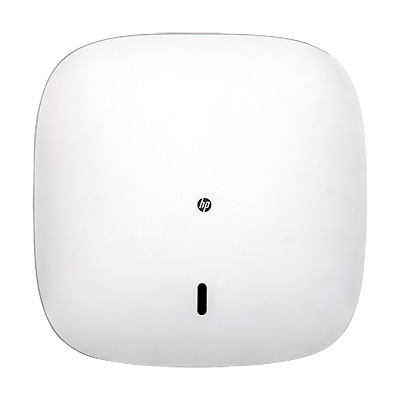 HP also introduce a new 802.11ac dual-radio AP, the HP 525. Currently, the HP 525 is only supported on the unified controller starting with software release P32. The HP 525 is dual-radio 2×2 MIMO AP and comes with two ethernet ports. One of them can be used for PoE, to power the AP. You can also use a separate power supply. The HP 525 has also external antenna connectors to use external antennas instead of the internal one. For more details, head over to the product page on the HP web page: